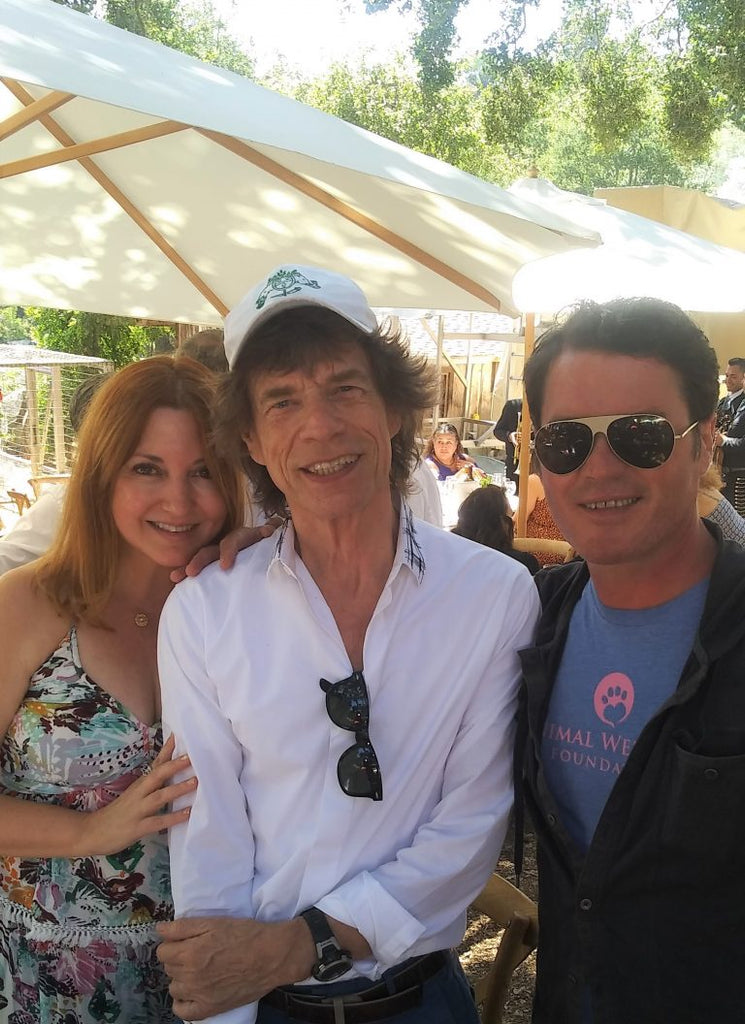 Rupert and Jerry (formerly Hall) Murdoch bid adieu to summer and celebrated the 30th anniversary of the Moraga Bel-Air Winery on August 25, 2019. Upon arrival, guests were welcomed by a Mariachi band, and were escorted to the beautiful outdoor luncheon.
The "who's who" of the entertainment and business worlds, family and VIP friends, including actor Harvey Keitel, producer Brian Grazer, Disney chief Bob Iger, LA Times owner and executive chairman Dr. Patrick Soon-Shiong, Chairman Walt Disney Television Peter Rice, Romanian-born venture capitalist Aviv Nevo, and co-chair of News Corp. Lachlan Murdoch and his wife Sarah, joined the Murdochs for an exclusive BBQ at the stunning winery estate for what could be described as a truly, non-partisan soirée.
Hall's children Elizabeth and James Jagger were in attendance, as well as their father (Jerry's ex), Rolling Stones front man Mick Jagger, the surprise guest of honor. Jagger was in LA on tour after a sold out performance at the Rose Bowl a few days prior. Soon after, he jetted off to the Venice International Film Festival to promote the new thriller "The Burnt Orange Heresy," in which he plays art dealer Joseph Cassidy. During the festival, Jagger, along with legendary actor Donald Sutherland, supported environmental protesters, openly criticizing the Trump administration's decision to pull out of the 2015 Paris Agreement.
As reported in MSN News, Jagger was quoted as saying, "I'm absolutely behind [the protest]. I'm glad they're doing that because they're the ones who are going to inherit the planet."
In his welcome remarks, Mr. Murdoch spoke about the long tradition of the property that was first owned by legendary director/producer Victor Fleming (who made "Gone With The Wind" and "The Wizard of Oz,") before introducing winemaker and property manager Scott Rich.
"We are proud of what we've accomplished here at Moraga and it is a joy to be a part of the wine community. Our winemaker crafts special and unique blends that our club members and distributors appreciate," said Mr. Murdoch. "There is a proud sense of ownership, no question, the passion with which the winemakers and staff approach each vintage is truly unique."
Moraga wines were definitely flowing throughout the afternoon. The property, which incidentally sits on the San Bernadino fault line, produces several truly exquisite vintages of white and red wines, and guests were able to taste and enjoy the 2006, 2016 and 2017 Moraga Bel Air Whites and the 2007, 2009, 2012 and 1991 Moraga Bel Air Reds.
"I'm so fortunate to be involved with such a special and unique property. There isn't another place quite like Moraga. I look back at what we've accomplished over the past thirty years and it still astounds me that we're making world-class wines at a small vineyard in Los Angeles. We want the whole world to know about Moraga," said Mr. Rich. "I'm so happy that we were able to share Moraga with so many people Sunday. The highlight for me was seeing how well the 1991 red wine has aged – and to be able to expose so many people to these very special wines was a thrill."
In addition to the world-class wine, guests enjoyed an elaborate buffet of barbeque of brisket, chicken, sausage, and even a 120 pound pig roasted on cinder blocks, as well as amazing sides and salads, and peach cobbler for dessert. The event was planned by Steven Petrarca.
A truly exquisite afternoon in the beautiful vineyard setting. Cheers!