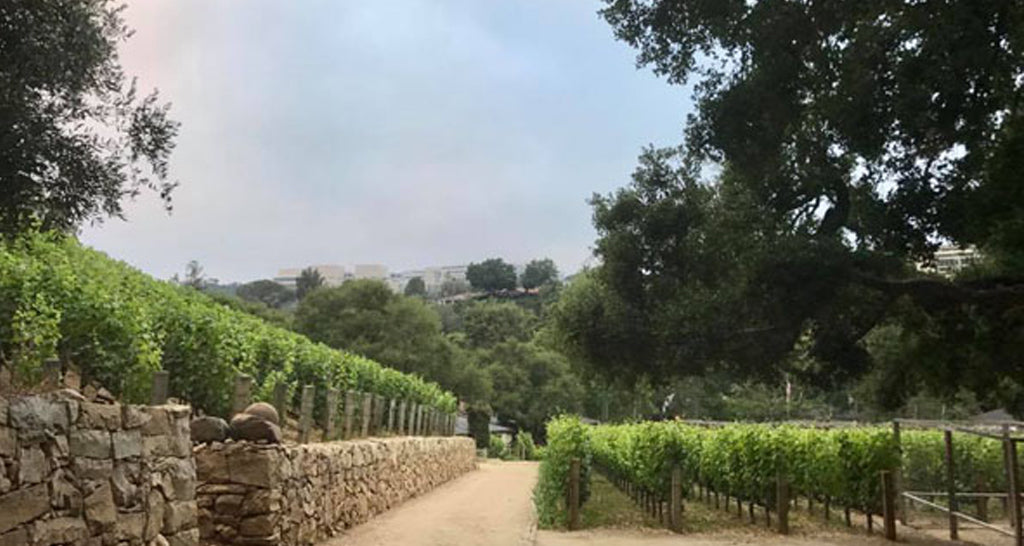 We had driven up Sunset Blvd from the Pacific Coast Highway, and turned into a side street near the 405. It didn't seem possible that just a few minutes prior we were on a hectic road because as we walked past serene vineyards, vintage stables and a barn under oak trees, the landscape seemed to ease the day with a country feel. Only The Getty Center's architectural beauty in the distance let us know this oasis had pulsing city life close by. We officially had been enveloped and mesmerized by Moraga Estate.
Finding this lush landscape sitting right in the middle of Los Angeles felt like we discovered a secret, like a kid finding a new toy under the couch for the first time. On this brisk Los Angeles evening, we sipped whites and reds at Moraga Winery soaking in the vino and the scenery. We could not get enough of the 2009 Moraga red wine, tasting similar to a full-bodied Bordeaux. The Sauvignon Blanc was our second favorite, refreshing and not too sweet.
Today ten thousand bottles a year are produced at Moraga Winery with 70% red and 30% white. The canyon locale creates a unique landscape with ancient marine soils (calcareous uplifted seabed), cool ocean breezes, and a distinct microclimate. The steep vineyard, planted at elevations up to 900 feet, creates a Bordeaux-like wine, rather different than other California wines contributing to a vino that is unlike any other in the world.
Founded in 1989 and owned by Rupert Murdoch after passing hands in 2013 from Tom Jones, former CEO of Northrop Grumman, the estate also comes with a fascinating history. Before Tom and his wife Ruth owned the property for over twenty years, the 14-acre property was a small horse ranch built by the famous movie director Victor Fleming. Stories in the 1950's included Clark Gable riding around the estate during the filming of Gone With The Wind and lunches on the terrace with Vivien Leigh and Spencer Tracy.
This private members-only winery in Bel Air is not open to the public. Learn how you can become a member at the exclusive Moraga Estate. Find Moraga wine at many restaurants in L.A. or at stores like Wally's Wines & Spirits.