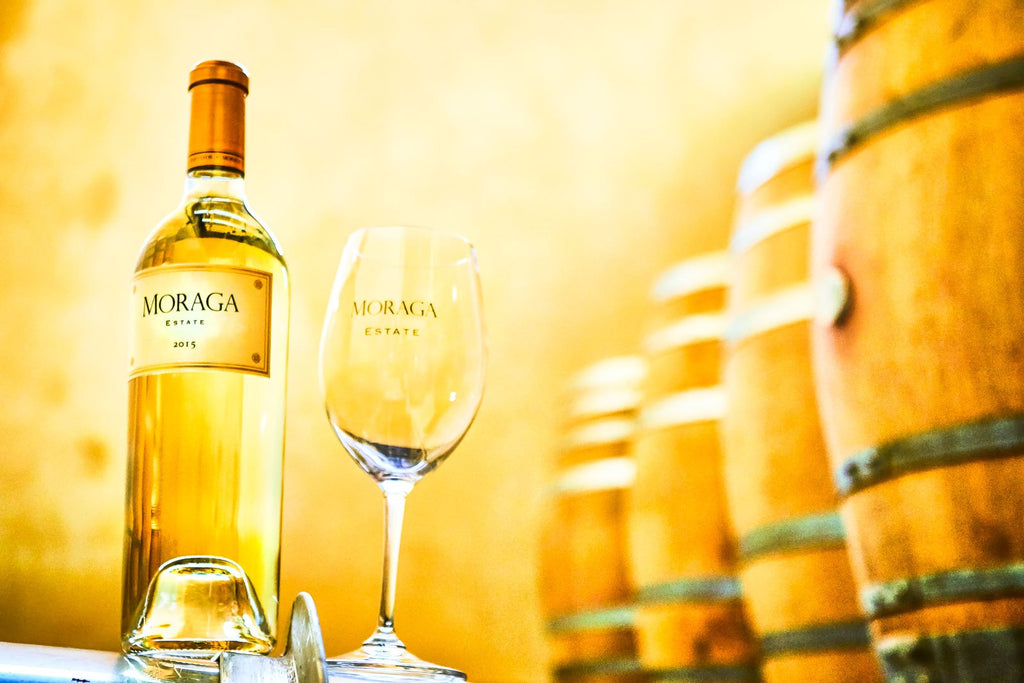 You'll find it tucked away on a quaint little street in Bel Air, thriving in a quiet neighborhood lined with beautiful homes and manicured yards — the kind of classic cottages you'd expect to  find in this chi-chi suburb of Los Angeles. Two giant wooden gates and clusters of tall, leafy trees conceal the 14 acres of rolling hills that gaze out toward Getty Museum. Stand at just the right spot, and at 1:30 p.m., you'll catch a cool coastal breeze that swooshes through the property from Santa Monica Bay, located just 5 miles away. "You could set your watch to it," notes Scott Rich. 
Welcome to Moraga Bel Air. It's a magical place, home to an estate steeped in Hollywood history and surrounded by 14,000 vines that produce boutique wines  fine enough to enchant the palates of media mogul Rupert Murdoch and his wife, former supermodel Jerry Hall. "We absolutely love being at the winery," notes the billionaire businessman. "It is a peaceful haven in the midst of Los Angeles." 
He bought the land and its vineyard in 2013 to serve as his West Coast home, placing him alongside other notable owners — "Gone with the Wind" and "Wizard of Oz" director Victor Fleming, who ranched horses on the property, and Northrop Corp.'s longtime CEO, Tom Jones, who was the first to plant vines in Bordeaux-style on the land and began producing wines commercially in 1989. That means 2019 marks Moraga Bel Air's 30th anniversary of winemaking for the masses — albeit on a rather exclusive level. The winery only produces about 300 cases of whites and 400 to 600 cases of reds each year. This year is expected to be on par, despite losing 130 vines in the fire that swept through the area last December. The blaze destroyed a couple of structures on the property, including a building that housed some of Moraga's more mature library wines. But a new, larger, state-of-the-art wine cave is in the planning stages and may be completed by the next harvest. None of that, however, is expected to have any impact on this year's vintage. 
These days, Murdoch enjoys the Moraga Red 2001 and 2007. Hall loves the Moraga White 2015. Priced at $175, the red is an enticing blend with hints of berry, plum and tobacco notes produced from Cabernet Sauvignon, Merlot, Petit Verdot and Cabernet Franc grapes. The white, priced at $115, is made entirely from Sauvignon Blanc grapes and carries lovely floral notes with hints of honeysuckle, peach and apricot flavors. Like the red, it ages beautifully — even beyond 10 years from vintage — which is somewhat unique among California wines. "The terroir of our tiny canyon and hillsides is perfect for our Bordelaise grape varietals," notes Murdoch. "Our winemaker, Scott Rich, produces amazing rich and luscious wines that drink well now but can age for decades. Some say that we are Southern California's only cult wine." 
For winemaker Rich, who joined the team at Moraga in 1996 (and is also the founder of Talisman Wine in Sonoma), it's all about quality over quantity. "We want to be a world-class winery. We'll eliminate about 15 percent of the grapes we harvest this year because the alternative would result in a mediocre wine. In my 33 harvests as a winemaker, this is the first time I've had to eliminate that much of a harvest, but we'll create a stellar wine." 
His senses appear to be spot on. The Wine Advocate's Robert Parker Jr. has called Moraga's nectars "serious wines made with a French orientation" and described the whites as "sensational efforts reminiscent of a top white Bordeaux." They're so beloved, some wine club members have been buying bottles for 20 years. You can't get them from any retailers, but in Orange County, you'll  find them poured at Studio at the Montage Laguna Beach, the Balboa Bay Resort and The Hobbit, among other fine dining establishments. And the moragabelair.com website allows for individual purchases. A $2,400 membership to the Cielo Club, named after one of the most picturesque sections of the vineyard, gets sipsters access to special events held in the nearby Moraga Winery Library Salon, a couple of cases of annual releases, a three-pack case of reds from the Library Selection, a magnum of red and a 15 percent discount on online purchases. 
As for Rich, he's truly found his calling. And it didn't happen overnight. Before becoming a winemaker, he worked as a developmental planner and designed Crown Valley Parkway in Laguna Niguel. "I was living in Newport Beach and working for a firm near John Wayne Airport," he says. "We did a lot of stuff for the Mission Viejo Co. and a little for Bren Development. Then I moved to San Francisco to work on more urban projects and land planning, but there were constant deadlines… and I ended up working nights and weekends. I didn't want to work like that for the rest of my life." 
So he went back to his alma mater, UC Davis, and enrolled in the viticulture and enology program, feeding a fascination that took hold as a child growing up in Salt Lake City. A Greek family in his neighborhood made wine in the basement. Whether consciously or not, that early exposure helped influence his approach to winemaking. "The UC system is set up to produce scientists, not really to produce winemakers," says Rich. "So when you finish the program, you know how to make very correct wines, but they're wines without much soul. You have to figure out which part of what you've learned you need to remember, and what you can forget. … If you want to have something that's as close to perfection as you can get, you have to be able to ad lib a bit." Seems like he's mastered the art. 
Original Story: https://sautemagazine.com/moraga-bel-air/