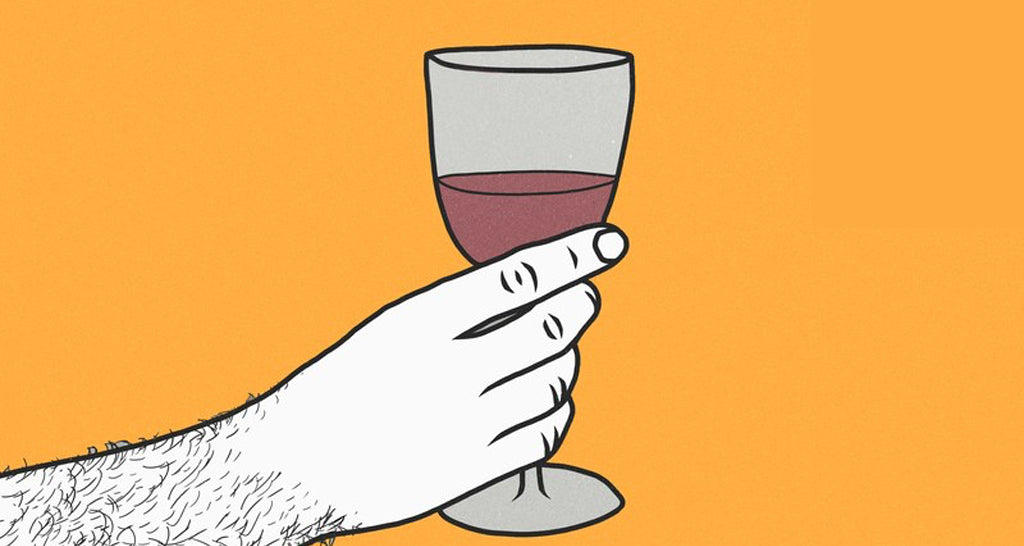 What to buy for the next time you're Netflix-and-chilling all by yourself.
People who love to wax poetic about wine will tell you about how it's best enjoyed with great company—you know, crack open a bottle, throw a lavish dinner party, think about how witty and well-dressed your friends and lovers are. Let's be honest, though: Most wine lovers (and even just wine likers) also drink alone pretty often. Though the concept of boozing alone has a bit of a bad rap (and should always be done in moderation), there's no shame in having an occasional glass or two of pinot to help you unwind at the end of a stressful day. But if you're going to do it, do it right. To that end, we asked a bunch of wine experts for their insights about which wines are best suited for solitary consumption.
"The best part of [drinking] solo is that you don't have to compromise with anyone on which wine to pick, and you can [try] new regions, styles, or producers," Chase Sinzer and Joey Letchinger of Wine Larder explain via e-mail. If you think you might end up polishing off the bottle in one sitting (re-corking is annoying), they suggest trying a lower-alcohol "Old World" wine from France or Italy: "Lower alcohol and less-ripe wines allow for more consumption on your own."
Natural wines also tend to have a lower ABV—and fewer weird, hangover-inducing chemicals—so you won't feel out of sorts at work tomorrow after downing three glasses on your couch tonight. Though there's some industry dissent about the definition of natural wines, Sinzer and Letchinger recommend hunting down a "serious" but "deeply refreshing" Chablis from Alice & Olivier de Moor, which produces natural French varietals that encapsulate a single terroir. Another organic option is 2015's Vigneau-Chevreau Silex, which is "fun to drink and a bit different than your typical Vouvray," per Moraga Estate's Roxanne Langer.
For a post-work, pre-dinner aperitif
If you're craving a bit of liquid sustenance before you eat, whites tend to be easy and well-balanced enough to drink on their own. Prefer a red? "Malbec's balance of fruit and earth notes makes it a classic, dependable choice," says David Bradbury, wine director of Café Escadrille near Boston. Bradbury likes pairing the smoky notes found in Malbecs from Mendoza, Argentina, and Cahors, France, with a cigar for maximum mellowing.
For a restaurant lunch
Heading out to read a book (or, um, stare at your phone) over lunch? Seize the moment to try a new-to-you wine from a lesser-known region. Bradbury proposes a pinot noir as a solid lunch pick for red fans. "It's not too heavy or high in alcohol, so you won't be wobbling back [home] after two glasses," he says. Pinot noirs also tend to jibe with most foods. Want to try a pinot from a less-explored region? "The Central Otago region of New Zealand is making some world-class examples of pinot noir, as is the Eola-Amity Hills region of Oregon," Bradbury says.
For a Netflix-and-popcorn kind of night
Prosecco's airy sparkle makes a prime complement to a mellow six-episodes-of–Stranger Things kind of evening. "The fine bubbles and clean finish are the ultimate accompaniment for savory flavors," explains Lisa Friedman of Santa Margherita Wines. (It also has a lower alcohol content and is "elegant enough to appreciate on its own, much like a craft beer.") A good prosecco—like Santa Margherita's Prosecco Superiore, which has been in production since 1952—can also "cut through rich [flavors] such as butter or hard grated cheese much better than [soda]," she notes.
If you'd rather go red, "Beaujolais is a refreshingly fruit-forward red wine that can pair very well with foods that are often considered 'white-wine foods,' " says Bradbury.