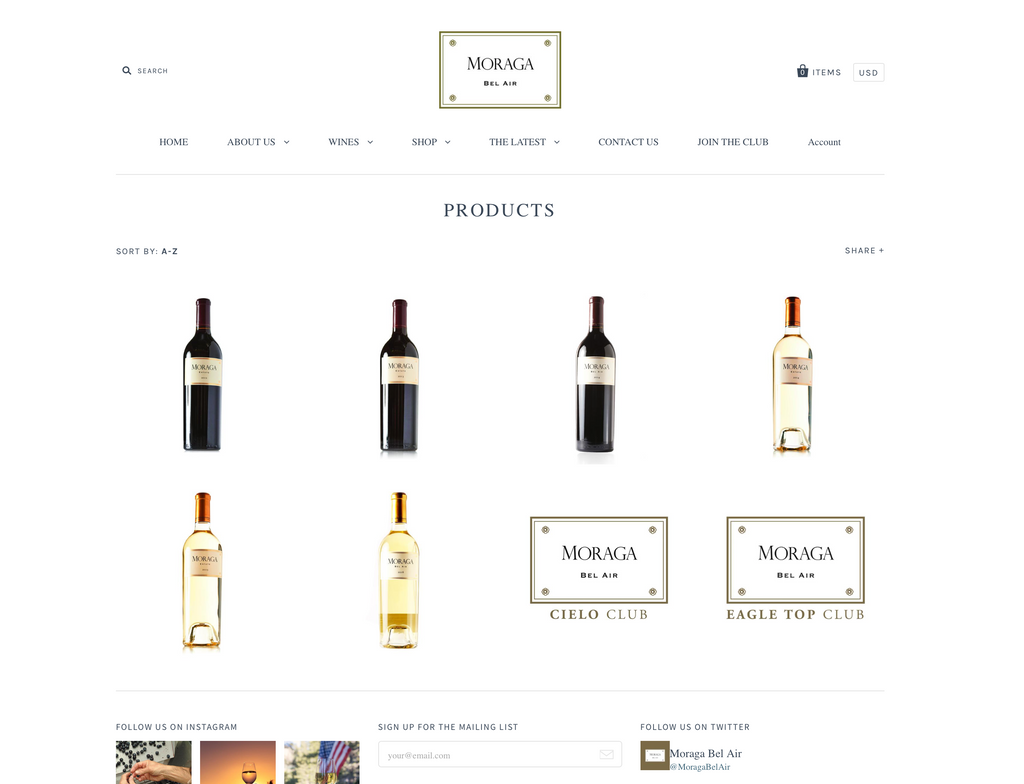 Moraga Bel Air vineyards and winery http://www.moragabelair.com launches for the first time an e-commerce option to purchase their wines and join the elite wine club which also coincides with their new wine releases; the 2016 Moraga White ($115) and 2014 Moraga Red ($175). Moraga Bel Air is located in the Santa Monica Mountains of Los Angeles. The vineyard is the source of remarkably refined wines that perfectly reflect a union of distinctive terroir and the gentle guidance of focused winemaking.
Moraga Bel Air is not open to the public and up until now the only way to discover their wines was through their wine club (sign up available by calling or by attending a private tasting event), or at select restaurants and boutique wine shops. With the launch of their online wine store, customers now have the convenience of shopping for Moraga Bel Air online and choosing which wines to purchase and/or which wine club they would like to join with the click of a button.
"We are very proud of our current new release wines and we're delighted that Moraga Bel Air can now offer online purchasing to everyone," says Roxanne Langer, Director of Sales and Marketing and Winery Sommelier. "This gives us the opportunity to introduce our wines into a national market and to let people discover our distinctive wines by individual purchases or by joining our unique wine club."
Moraga Bel Air's new releases:
2016 Moraga White – Twenty percent of the juice was put in new French oak barrels and the remaining 80% was placed in stainless steel barrels. After three weeks, the wine in the oak barrels was used to top up the stainless-steel barrels, where the wine aged on the lees until the following August when it was racked from barrel and prepared for bottling. Fresh peaches, honeysuckle, wet slate, and a hint of pineapple tickle your olfactory bulb on first examination. The nose is effusive and mirrored on the palate. The flavors are focused ripe peach, along with mandarin and lemon zest. There is a delicious core of sweet ripe fruit. The texture is unusually plush and voluptuous, as well as very mouth-coating. There is a tremendous tension between the acidity and decadent texture.
2014 Moraga Red –The wine was bottled in mid-August 2015 and was bottle-aged for just shy of two years before release. The aroma of the wine nearly jumps out of the glass. Signature notes of tobacco, briar, and tar balance the predominant cassis in the nose. This wine is dense and well-built, but lively and energetic. Tannins are very firm, yet very fine, smooth, and supple. Flavors of black cherry meld with blueberry, sweet saddle leather, and pipe tobacco. The tannins build to a very persistent finish.
Moraga Bel Air has two wine clubs, the Eagle Top Club and the Cielo Club.
The Eagle Top Club - Near the top of our vineyard sits the small Eagle Top Block that is planted to Merlot vines of the same rootstock and clone cultivated at Chateau Petrus in Bordeaux. The block is named for the eagles that Moraga's founder Tom Jones often said nested atop the estate. We acknowledge the distinct possibility that these "eagles" were Red-tailed Hawks. Yet, we so like the name "Eagle Top" for this section of the vineyard that produces stunning Merlot. $2,200
Club Benefits Include:
Wine:
    Annual release case of white and case of red (or equivalent dollar amount)
    September: Library selection of 3-pack case of red
    10% off all wine
Experiences:
    Annual spring release party for club member and three guests
    Lunch in the vineyard prior to the annual spring release party for club member and a guest
The Cielo Club - Meaning "sky", Cielo is the name of a block of Cabernet Franc and Petit Verdot sitting at the summit of our property—a spot from which the vineyard and the canyon and the wide-open sky unfold with views to the nearby Pacific Ocean. Though an arduous trek, members of our vineyard crew make it regularly and are rewarded with this stunning vista. $2,400
Club Benefits Include:
    May: Annual release case of white and case of red
    September: Library selection of 3-pack case of red
    December: Magnum of red
    15% off all wines
Experiences:
    Annual spring release party for club member and three guests
    Lunch in the vineyard prior to the annual spring release party for club member and a guest
    Dinner at the Moraga Library Salon (tickets $150.00 per person) Date TBD
    December: Moraga Library Salon Holiday Open-House and magnum of red pick-up
For more information on Moraga Bel Air and their wines and wine club please visit
http://www.moragabelair.com, you can also find us on social media:
Facebook: facebook/moragabelair
Instagram: @moragabelair
Twitter: @moragabelair
ABOUT MORAGA BEL AIR:
Moraga Bel Air was founded in 1989 by Tom Jones, President and CEO of Northrop Corporation. After living on the estate for two decades, Mr. Jones decided to plant grapevines. The gravely and calcareous soils on the property reminded him of Bordeaux, where he and his wife traveled often. In 1980, the Joneses planted Chardonnay and Sauvignon Blanc, but after a few years, the vines fell ill to Pierce's disease and in 1983 they were replaced with red grape varietals: Cabernet Sauvignon, Merlot, Cabernet Franc and a small amount of Petit Verdot was eventually added to the mix. In 1996, Scott Rich began making Moraga's wine during his tenure as Etude's winemaker. After a brief absence, Mr. Rich returned as Moraga's winemaker in 2002 and has since created some very notable wines and achieved a significant milestone in Moraga's history with the construction of a cave in 2003 and a state-of-the-art winery which was completed in 2005, just in time for the 2005 harvest. In 2013, Mr. Jones sold the property and winery to businessman Rupert Murdoch.
Mr. Murdoch has committed to protecting Mr. Jones' legacy by continuing to have Moraga Bel Air make exceptional wines. Throughout its history, the wines of Moraga Bel Air have been coveted and praised by some of the top wine critics in the nation.