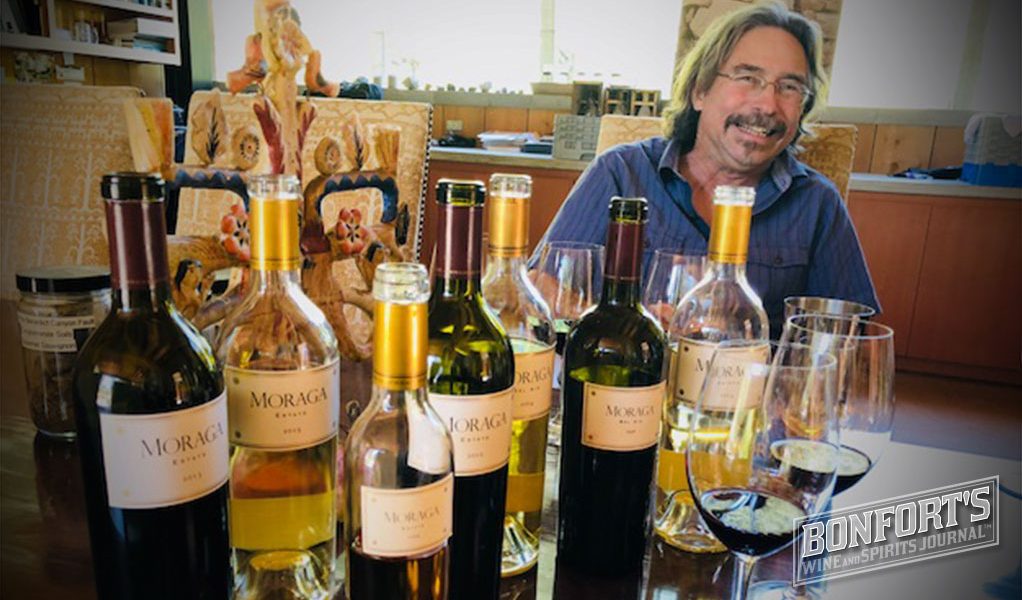 Natasha Swords, Editor in Chief, and Bonnie Graves, Wine Editor take an enviable tour though Moraga Bel Air with Winemaker, Scott Rich.
By Natasha Swords
Scott Rich is as approachable a winemaker as they come. Despite the continued success of Moraga Bel Air, the positive reviews, the unwavering quality, and the loyal following he has created since joining the winery in 1996, Scott is humble and friendly. But he doesn't aim to please. He strives, instead, to make the best wines he can.
Upon arriving at the stunning 14-acres Moraga Bel Air site in Beverly Hills, owned by media mogul Rupert Murdoch, one is immediately struck by the beauty of the estate, and the complete absence of ostentatiousness. It is, simply, naturally beautiful with a large, welcoming, modern, tasteful building in which Scott sits and talks us through the business, the vineyard, his winemaking process and the wines themselves.
Positioned on the Benedict Canyon Fault (now 13,000 years inactive), seven of the fourteen acres are planted with Cabernet Sauvignon, Sauvignon Blanc, Merlot, Cabernet Franc, and Petit Verdot, creating around 300 cases of white wine, and 600 cases of red each year. The canyon locale of the Moraga Bel Air vineyard includes ancient marine soils and a distinct microclimate that clearly differentiates the property from other California appellations. The steep vineyard, planted at elevations up to 900 feet, is recognized as an exceptional site for creating wines with a sense of place. A daily bay breeze coming off the Santa Monica Bay, which can be clearly seen in the distance from the top of the vineyard, keeps vineyard temperatures moderate.
The character of the vineyard is strongly reflected in the wines; in the Moraga Red, the calcareous soils connect each vintage with a common thread. There is a unique and identifiable Moraga signature of rich tannins; supple texture, pure Cabernet fruit, currant, and tobacco. Grapes from the vineyard's many different exposures allow for complexity from a careful blend of the different vineyard blocks that make up the vineyard.
There are many things about Moraga Bel Air that one can find striking: the quality of wines, the beauty of the estate, the fact that the vineyard is even in Bel Air, but perhaps it's the unfailing consistency of quality that impresses us most. Year after year, Scott Rich creates wines that never disappoint – they always overdeliver even at high price points. "I have set processes that work and contribute to how the wines we make here are defined," he says.
He's referring to methods like "picking everything on a flavor profile basis" and "co-fermenting of the white wines. "Imagine you're making a stew and all the ingredients coalesce as they cook together, to create something new. Now imagine you cook all the ingredients separately and then put them together on the plate. The first method is going to create a better stew and a more individual profile," explains Scott.
The red wine lots are fermented separately and blended prior to bottling. The red wine receives two years of bottle aging prior to release, which is plenty of time for the components to marry and integrate.
All the Sauvignon Blanc, which is Clone One*, is picked on the same day and rested on the lees. "It makes for a more complete and interesting wine," say Scott. "We press everything here and oxidize like crazy, sort of the opposite of, say, a New Zealand-style Sauvignon Blanc," he explains. One thinks Château Haut-Brion when tasting. In fact, according to Scott "The Chateau Haut-Brion team has been to visit Moraga Bel Air a couple of time and commented that Moraga's white wine is stylistically and qualitatively similar to Haut-Brion Blanc."
More than a few master sommeliers have been stumped by Moraga Bel Air, certain it's a Bordeaux.  Much like its Bordeaux counterparts, Moraga Bel Air can sometimes be slow to come 'round in development, but its longevity is even and steady.
"The oxidization of the Sauvignon Blanc juice contributes to a wine that will age better. No wine with shortcomings is going to fix itself in the bottle. Our wines start off balanced and they age that way. A balanced Ph, like in Bordeaux wines, is probably one of the things for which we are most well-known," says Scott. "But mainly it's the sense of place that shows throughout all our wines that has created our loyal following."
Eighty percent of the red grapes grown here are Cabernet Sauvignon, with Merlot accounting for 19% and Petit Verdot and Cabernet Franc making up about one percent between them. One hundred percent of the white grapes grown are Sauvignon Blanc. Scott uses stainless steel barrels 80% of the time and tops up with the 20% of wine stored in French oak. (For the Sauvignon Blanc, the wine lives in oak for only three weeks.) "Our winemaking is basic," says Scott. "Getting all the basics right is not as common in this industry as you might think, so keeping it basic and right is our goal."
We ask him bluntly though to pin down one key aphorism the winery employs to create wines that stun us every year: "We don't make wines to please any particular person, trend or following. We make the best wines we can. We ignore what's popular in consumer tastes and just do what's right. When Rupert Murdoch took over our winery six years ago, he said 'Keep doing what you're doing'. I took that to heart, and it's worked well for us so far."
*Clone One: FPS 01, the Wente clone, was planted in the Livermore area in the 1880s, but it originally came from Chateau d' Yquem in Bordeaux, France. 
Read the full feature: http://www.bonforts.com/categories/wine/moraga-bel-airs-scott-rich-doesnt-aim-to-please/