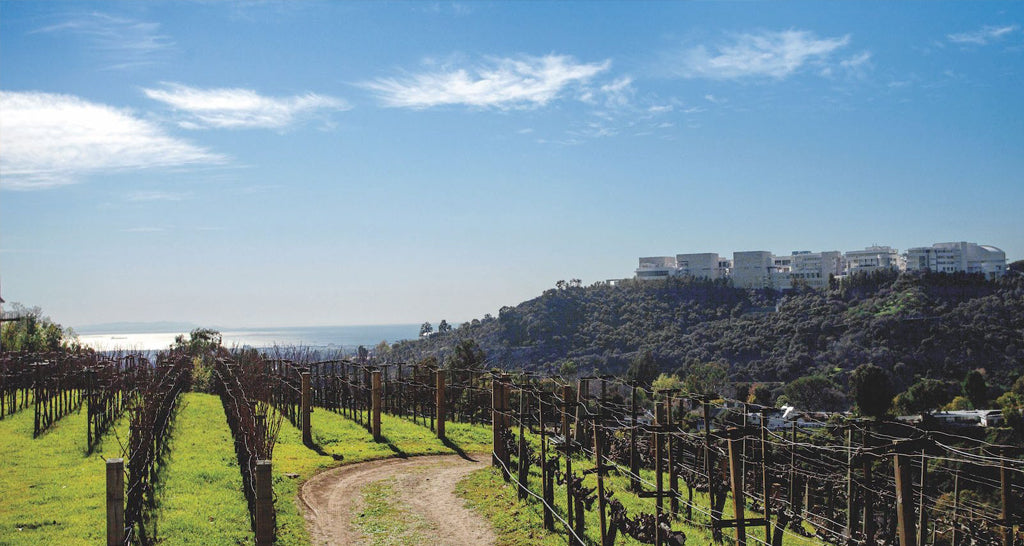 The vineyard may be in the middle of a residential neighborhood and a mile or so from the 405, but from the moment you clear the gate, you feel as if you are exploring the terroir of Tuscany in Italy or the Rhône Valley in France.
"Sometimes I want to blindfold people and ask where they think they are," quips Scott Rich, as he stands under a canopy of towering oak trees, gazing out at the expanse of Moraga Estate and Vineyards in the hills of Bel Air. The idyllic site is where the winemaker is marking his 21st harvest.
Concealed behind an unassuming, rustic wood, double-door gate, the 16-acre estate, that includes a 7,500-square-foot, single-story home, winery and seven acres of rolling vineyards, is located on a tree-lined street named for Spanish explorer José Joaquín Moraga.
The vineyard may be in the middle of a residential neighborhood and a mile or so from the 405, but from the moment you clear the gate, you feel as if you are exploring the terroir of Tuscany in Italy or the Rhône Valley in France. The most dramatic views of its vine-covered, terraced hills are seen from overhead—or from a certain vantage point at The Getty Center, across the Sepulveda Pass.
With a history spanning over eight decades, the estate has played host to U.S. presidents, dignitaries, moguls and movie stars. President Ronald Reagan was known to go home with fresh chicken eggs after visiting.
Within the last 30 years, its two wines have been made in a Bordeaux fashion—a pure Sauvignon Blanc; and the red, a blend of Cabernet Sauvignon and Merlot with a touch of Cabernet Franc and Petit Verdot. They have been poured by some of the world's most acclaimed restaurateurs, including Alain Ducasse, Wolfgang Puck and Piero Selvaggio. The vineyard is private, with access only through membership to The Club at Moraga Estate.
Moraga's annual yield of approximately 10,000 bottles is made up of roughly 30% white and 70% red, depending on the "kindness of Mother Nature," as Rich puts it.
Both wines are produced completely onsite with grapes handpicked, processed and bottled in a state-of-the-art stainless steel tank fermentation cellar. In an adjacent structure is a 200-foot wine cave dug into a hillside and filled with single-use 100% French oak barrels.
The property was originally a horse ranch in the late 1930s, developed by Academy Award-wining film director Victor Fleming (The Wizard of Oz and Gone with the Wind). Regular visitors included Vivien Leigh, Jean Harlow and Spencer Tracy, while Clark Gable is said to have kept his horses in the stables. The street itself is where the Moraga Spit and Polish motorcycle club, organized by Fleming, rode through the canyons with Gable, aviation pioneer Bill Lear, actor Keenan Wynn and others.
Yet despite Hollywood lore and its oenophile reputation, Moraga remained a hidden gem—so much so that many were taken by surprise when in May 2013, Australian born, American media tycoon Rupert Murdoch tweeted:
"About to celebrate buying beautiful small vineyard right in LA. Great wine, Moraga, owned by great Angelino, Tom Jones. Time cover, 1961!"
The purchase price was $28.8 million.
The "Tom Jones" Murdoch referenced was not the Welsh singer, but Thomas V. Jones, the former chairman of airplane manufacturer Northrop Grumman, who, with his wife Ruth, had owned the property since 1959— when it was filled only with chaparral and oak trees.
"I was looking for a house in LA, not necessarily one with a vineyard, but when I saw an ad in the Wall Street Journal regarding the estate and winery, I was immediately interested," says Murdoch, 86, who had previously met Jones on a couple of different occasions with President Ronald Reagan.
"Tom had been looking to sell Moraga for about three years," explains Rich. "His biggest fear was that someone would come in and subdivide the place and turn it into a bunch of houses and sell it off. He was looking for someone without financial incentive."
"We merely aim to make better wine every year. Not more."
Murdoch came to Moraga to meet with Jones several times, and eventually, "over a handshake and a glass or two of wine," agreed to Jones' one major condition—to keep the property as is.
Murdoch kept his promise, only gutting the interior of the house to update the décor. The home exterior and gardens, including the Castilian roses (illustrated on the Moraga label), remain untouched, as do the 1937 stables, now used as offices.
Ever the entrepreneur, Murdoch did raise the price of a bottle of red from $125 to $175 and white from $65 to $110.
"We felt that the wines were worthy of the price adjustment," reasons Murdoch. "We are certainly in line with the great wines of Napa."
Asked about future expansion, Murdoch states, "We merely aim to make better wine every year. Not more."
Murdoch, who owns homes around the world, including New York and London, says he spends about "a quarter of the year" at Moraga with his fourth wife, Jerry Hall, 60.
"It is definitely my favorite home. I feel a bit more relaxed; it's hard not to be as the setting is so lovely."
Winemaker Rich, 60, divides his time between Moraga Vineyards and Talisman Vineyards in Glen Ellen, which he co-owns with his wife. He reveals his relationship with Murdoch is very similar to how he worked with Jones.
"Tom was on the cover of Time magazine in 1961 because he was the first American captain of industry to really and truly embrace the idea of hiring good people and letting them do their job. He was always interested in what we were doing and why we were doing it," explains Rich. "Rupert has been the same way with the winemaking … he's very good for Moraga."
Murdoch, who describes himself as a "lifelong student of wine" explains, "As I do most of my companies, I rely on the best in the industry to do what they do best. Scott and I have a good working relationship. I was just there in August … the vineyards are looking wonderful … the rain this year really helped."
THE HISTORY
Before Napa and Sonoma, Los Angeles was California's original wine country. French immigrant Jean-Louis Vignes became the first commercial winemaker when he imported Cabernet Franc and Sauvignon Blanc vines in 1833 and planted a 104-acre vineyard called El Aliso, near downtown and along the LA River. The winery was the first of over 100 that eventually developed at the time, only to close down years later due to plant disease, and ultimately, Prohibition. The word vignes means "vine" in French—Los Angeles' Vine Street is dedicated to his legacy.
"Tom and his wife would travel back and forth between California and France, becoming increasingly interested in wine," explains Rich. "Initially they thought to start a vineyard somewhere else in California, until Tom thought about Vignes' success and discovered the soils at Moraga seemed similar to those in Bordeaux and Burgundy. They decided to give it a try and planted the first 40 vines, imported from France, in 1978."
THE FIRST SEASON
The vines took and more blocks were planted. The oldest vine on the property is from 1985. A series of esteemed winemakers from Napa were brought to Moraga, and the first vintage was bottled in 1989. Scott Rich arrived in 1996.
"The distinct Bordeaux profile of Moraga wines can't be compared to other local wines due to its unique landscape," says Gary Fishman, the domestic wine buyer for Wally's Wines & Spirits, which has carried Moraga since its first vintage when the shop's founder, Steve Wallace, served as Jones' initial consultant.
Author Jay McInerney, in his book, The Juice: Vinous Veritas, wrote, "The steep hillside of Moraga Canyon is reminiscent of the best vineyards in Cote Rotie or Chianti." Wine critic Robert M. Parker Jr. called Moraga vintages "serious wines made with a French orientation."
THE STARS ALIGN
The unique Bordeaux similarity, Rich says, is due to a "serendipitous intersection of climate and soil," influenced by a 600 to 900 foot elevation, lower temperatures, increased rain and a breeze from the Santa Monica Bay. The Sauvignon Blanc grapevines line the lower vineyard and run through a low spot with natural cold air drainage, which he says "is like heaven for sauvignons." The red grapes are situated on higher ground under calcareous, uplifted seabed and create "a unique wine with a soft fruity-herbal finish."
"My job is to let everything that's special about the vineyard show through in the wine. We mess with it as little as possible, we pick grapes at the right time and get flavors we want," says Rich. "The varietal makeup of the red wine changes with every vintage because sometimes Mother Nature gives us more of one grape than another."
Both Rich and Murdoch agree that there are no "best years—just different years."
Murdoch hopes "wine lovers everywhere will have the opportunity to understand the unique nuances of our specific soil at Moraga and how that translates into the amazing wines we create. We are not Napa nor Bordeaux—we are Moraga and deserve a place at the table with the rest of the world's top wines."