The 3.2-hectare (8-acre) property resembles rural Tuscany but nestles amid the mega-mansions of Bel-Air, the plutocratic neighbourhood in the Santa Monica mountains just west of Los Angeles. Here, amid steeps slopes lined with vines, the 86-year-old media mogul has discovered a passion for making wine.
The estate's winemaker, Scott Rich, said the soil and climate, cooled by Pacific breezes, matched Bordeaux more than Napa in the north, so the estate produces sauvignon blanc and a cabernet-merlot dominant blend. "Rupert just wants us to keep doing what we're doing and make the best wine we possibly can."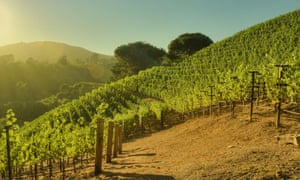 There's just one cloud on the horizon. Climate change, said Rich, is affecting production.
"We're finishing harvest a little bit earlier than we used to. That's the big thing." A blessing, it turns out, he added. "It's been a positive thing. We don't get rained on. Rain can ruin everything for us."
But Murdoch has ridiculed climate change science as "alarmist nonsense", a view echoed in his media outlets.
Asked if they had discussed the impact of a warming planet on the vineyard, Rich shook his head. "I have not. My general feeling about people's beliefs is that I'm not going to change them regardless of the discussion. I haven't broached it with him."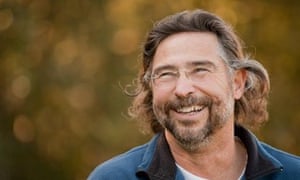 As part of a marketing push for his vineyard, Murdoch agreed to take some questions from the Guardian – possibly his least favourite publication – just as long as they were about wine.
"Being involved with a winery of Moraga's calibre has been a wonderful chance to experience something new and to learn about what goes in to producing a wine so unique and special," Murdoch said via email. "I'm absolutely passionate about it."
He bought Moraga, the only vineyard and winery within LA city limits, for $28.8m (£22m) in 2013. Its 1920s Mediterranean-style house – nine bathrooms, 11 bedrooms - is home when he and wife, Jerry Hall, come to the west coast.
Staff say the boss is serious about wanting to personally harvest grapes. But work commitments keep sabotaging that.
The property abuts the 405 freeway but feels rustic. Last week a suspected coyote killed one of the estate's chickens.
A previous owner, Victor Fleming, the director of The Wizard of Oz and Gone with the Wind, used to host Clark Gable, Vivien Leigh, Ingrid Bergman and other Hollywood illuminati.
Thomas Jones, a corporate titan, bought the property in 1959 and turned it into a vineyard before deciding to sell. Murdoch spotted the ad in the Mansion section of the Wall Street Journal, which he owns.
With his offspring taking more control of his companies he hopes to spend more time amid vines and barrels.
"I try to help out on the property whenever I can and am looking forward to doing so even more in the future," said Murdoch. "This year I'm hoping to be there for the harvest. I'm in contact with the staff almost daily and very aware of what is going on both in the vineyard and with regard to sales. For me, Moraga is a fascination as well as a business that I'm passionate about."
As well as discovering his passion for making wine, the media mogul has also discovered his passion for selling it. One of his first acts as owner was hiking the price, deeming the wine world class. Perched on Bel-Air real estate, with slopes too steep for tractors, requiring everything to be done by hand, costs are certainly high.
He hopes more restaurants will stock his output in spite of sharply increased prices.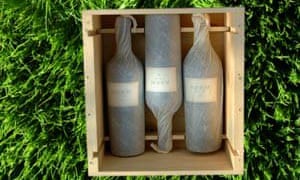 Tasting notes for the sauvignon blanc cited citrus rind, a hint of citronella, fresh green apple, Bosc pear, Asian pear, honeydew melon, honeysuckle and hints of pineapple and white peach. "The texture is exceptionally round and viscous and the wine finishes with mouthwatering persistence." The price is approximately $115 a bottle.
Notes for the red said aromas include cassis, briar and cocoa, with hints of sandalwood, pipe tobacco and wet sandstone. "Moderately concentrated, the wine finishes with a juicy persistence." The price approximately is $175 a bottle.
And when the Guardian relayed Rich's belief about climate change and asked whether this might influence his views, Murdoch responded: "I'm not a climate denier. Climate is always changing. We just had years of drought in California. Now we're having a lot of rain."